Mindfulness and Learning

"When you look at the brains of meditators, the areas related to attention, learning, and compassion grow bigger and stronger.  It's called cortical thickening: the growth of new neurons in response to repeated practice.  What we practice grows stronger."  Daniel Goleman.
What is Mindfulness?
Learn about the concept of mindfulness and how mindfulness can be useful to students.
Mindfulness for Academic Success (MAS) Program
A 6-week group to help students manage academic stress and improve their academic focus.
The Mindfulness for Academic Success (MAS) program uses mindfulness practices to:
Manage academic stress
Improve focus and manage distractions
Effectively get started and stay on track with academic tasks
Develop a positive and productive mindset for learning
Facilitate communication and connection among students
No prior mindfulness experience is necessary to participate.
MAS is adapted from a similar program at Monash University.
The fall session is now full. If you would like to be added to the wait list for a future offering please email learning@uwo.ca.   
Email learning@uwo.ca. You will receive a registration request form to complete and return. You will then be booked for a 15-minute zoom meeting with the program facilitator. Please note space is limited.
"Every single part of it was useful, I am really surprised how my perspective towards mindfulness has changed. I became more self-reflective, self-aware, and acquired more emotional control through practising all the exercises."
"Learning how to be more mindful and being more present, it has helped me multiple times focus on my work and it has made me more self-aware of my thoughts and how to be more compassionate to myself which was definitely needed."

"Meeting as a group kept me accountable. I've known about mindfulness for a long time but I never felt inspired enough to do the practice on my own. This program helped me transition regular mindfulness into my life. "

"One of the most useful aspects of the program was the learning community. It was really helpful to learn from and alongside other students. Hearing their stories was inspiring and greatly supported my learning. It helped me feel that I am not alone and the MAS program did a fantastic job facilitating communication between participants. The program provided a safe space for discussion and community was an important aspect that was missing in my student experience as a Graduate student at Western." 
Weekly Mindful Moments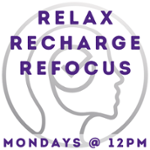 When? Mondays 12:00-12:20pm.
September 19th-December 12th, 2022 (excluding Oct 10th)
Add Mindful Moments to your calendar
How can you join?
Click here to join the Mindful Moments' Zoom session
Meeting ID: 930 3249 7859
Passcode: 853400
Description:
Relax, recharge, refocus with weekly drop-in mindfulness practices live on Zoom. We begin with a few minutes of quiet reflection, followed by a 10-15 minute guided practice.
All graduate, undergraduate, and professional school students in all fields of study are welcome. No prior mindfulness experience is necessary to participate.
Testimonials:
"It helps me reduce anxiety, and increase focus and productivity."
"It helped me recharge for the rest of my day."
Mindfulness Practices 
Here you will find a series of mindfulness meditation recordings and reflective exercises to enhance your mindfulness practice.
Journaling offers a way to practice mindfulness.  Mindful journaling can help you to focus on specific areas of your life a student, and provide a reflective space for considering academic goals and intentions.  The prompts below can be used as a starting point to guide your own reflective journaling practice.
20 Writing Prompts:
Write a paragraph or create a mind map using this prompt: "I learn best when I ……….."
How would you describe yourself as a student?
What are the 3 greatest strengths you bring to university learning?
Write about your study space.  What makes it great?  What would make it better?
Do I procrastinate?  Why? What could I change?
What scares me about university?  How are these fears holding me back?
What are the 3 things I spend most of my time on each day?  Do these things align with my priorities?
What do I want to achieve in the next week, month, and year?
What 3 things can I be grateful for today?
What do I most want to improve as a student?  What is the first step I could take?
What have been my biggest academic successes in the past year?  In my entire life?
What are the things I look forward to most each day?
What are 3 things I could do this week to contribute to my success as a student?
In what ways am I receptive to feedback from professors?  How could I learn more from feedback?
What are 3 ways I can create a greater level of motivation toward my work?
What things in my life cause me the most stress?  Can I change them?
What is my perspective on making mistakes?  How is this perspective impacting my academic journey?
Imagine your best possible future self with respect to your academic life.  What is happening in this future? What are you doing to make it your best?
What are you most proud of as a student?
Write a letter to yourself, filled with encouragement about your academic journey.